Key Features
Available for XU60 and XU90.
All bends have true taper plastic sleeved rollers to ensure correct load orientation.
75mm pitch on inner rail.
50mm diameter zinc plated rollers are double grooved at the drive belt positions.
Heavy duty XU90 belts are used throughout.
Bend units can be supplied fitted with geared motor units, (60° and 90° only).
For smaller products intermediate rollers are available & supplied loose for on site fitting.
The lineshafts are inter-connected by constant velocity (needle roller bearings) universal joints, housed within a rubber gaiter.
All bends have an inside radius of 859mm.
Angles available 30°, 45°, 60° and 90°.
Accumulation not advised.
Standard widths available: 412mm, 462mm, 512mm, 612mm, 762mm and 912mm. Other widths available on request.
Video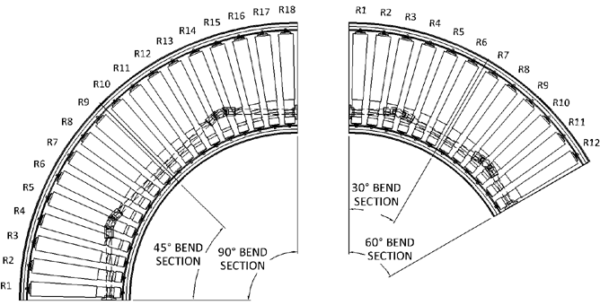 Lineshaft Powered Roller
Range