Key Features
Available for XU60 and XU90 conveyor.
Speed up spools are supplied at the stop position to increase gaps between loads. Speed up jump chain assemblies can also be used for this application.
This type of stop is particularly useful where conveyor height is to be of a minimum and in two tier systems.
Incorporates single acting spring return pneumatic air cylinders.
XU60 upto and including 512mm are fitted with single cylinders, 612mm and 762mm are fitted with twin cylinders.
XU90 fitted with twin cylinders as standard.
Total air consumption for each operation per cylinder – 0.24 litres.
This stop unit has a full width blade and is designed to fit into any straight track position.
Maximum product weight 15Kg.
Standard widths available: XU60 – 412mm, 462mm and 512mm, XU90 – 412mm, 462mm, 512mm, 612mm and 762mm.
Video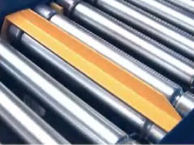 Lineshaft Powered Roller
Range