Flexi gets straight up great sales.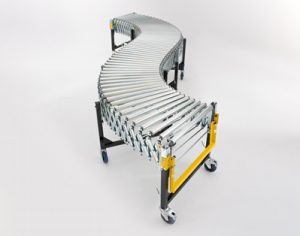 Growing our business to meet our growing future…
The future seems to be approaching ever faster nowadays, which is why, as a business, we are always working to stay one step ahead of the changes and developments needed to meet the changing demands of our customer base of world-class integrators and material handling project managers and the global brands that use our products daily in their businesses.
Throughout December we will be doubling the capacity of our Flexi Conveyor department with the installation and integration of a full production and assembly mezzanine floor to meet the growing demand for the system.
Over the last twelve months, our UNI-XU Flexi Conveyor System has seen exponential growth due to its modular and portable specification, allowing it to be assembled to the customer's unique requirements and easily stored away when not required.
Our UNI-XU Flexi Conveyor Systems are available up to 30m and compacts to a 1/3 of their full size when not in use. The portable system offers low maintenance. AC Motor with no brushes, and can also provide total stability and withstand rigorous demands in day-to-day operations.

Available in different configurations:
> Gravity Roller
> Gravity Skatewheel
> Powered
> Powered options:
>>Zero Line pressure
>>Smart Optics
>>Indexing
>>Master and Slave
Some of the many benefits fo Flexi:
> Adjustable height
> Self-tracking
> Modular and configurable
> Compacts to a third of its size when not in use
Click here
to find out more about our Flexi range of conveyor systems.