Conveyor Units' pallet conveyors provide the in-plant transport links between production, warehouse, order picking and despatch. All too often pallets are stored in racks or stacked & then transported by forklift truck. This can create capacity shortfalls and pallets can be subject to damage.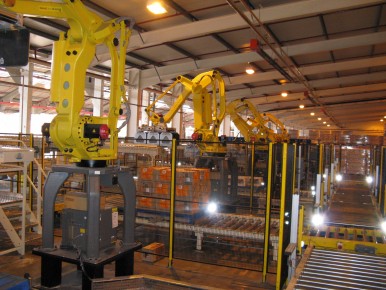 Whether you need to transport, stop and accumulate, reorient, or stage loads, Conveyor Units offer cost-effective pallet handling conveyor systems that provide years of reliable service. In conjunction with control software & ASRS systems, pallets can be transported, stored, located, picked and distributed as an automatic process.
A leading UK cereals manufacturer was recently seeking a robust and cost-effective pallet handling system with two complete robot palletising lines. Conveyor Units supplied the pallet chain and roller conveyors, which fed motorised turntable and chain transfer modules of the design. Empty pallets are fed into the system, loaded automatically by the robot which picks boxes directly from Conveyor Units' pack conveyor. Fully loaded pallets are finally control fed through a stretch wrapper before entering the despatch area for unloading.