Sortation conveyor systems generally receive mixed unit loads and discharge them to designated locations or outfeed conveyors, in response to signals from automatic control systems. Conveyor Units has considerable experience in providing high performance solutions for distribution centres in which sortation has been a key part of the materials handling system specifications.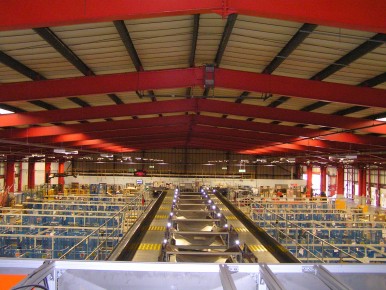 Sortation systems are often designed for diverse product handling and high throughput requirements of today's warehousing and distribution centres. They often incorporate a range of modular conveyors including sorters, transfers & merges. Throughput rates depend upon item lengths, weights, conveyor speed, and required spacing between products.
Our UNI-XU® conveyors have been utilized in many different systems which, together with control and automation software, optimize warehouse operations.
Conveyor Units' standard conveyor modules have recently been used extensively for a project at the TNT's Northampton Hub, through which all its international traffic is routed . As International freight increased, and the number of locations, which their Northampton hub services increased, the need arose to improve the throughput and speed of the sorting process.
The system installed incorporated over 250 metres of conveyor. This included twenty high speed bi-directional switch sorter units mounted within 24 volt DC Servo-Motor high speed conveyor, with line shaft and belt conveyors completing the system. It is capable of sorting 30,000 parcels to relevant postal code delivery areas within a 7 hour window.