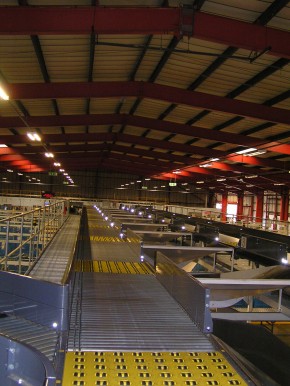 Distribution today demands the use of easily integrated conveyor technology that can deliver high speed, reliable package sortation. From unloading to sortation and back to loading, Conveyor Units' range of conveyors span the parcel transport process with many references in both smaller regional hubs and large International parcel distribution centres.
The UNI-XU® range includes flexible extending conveyors for loose load/unload, robust & durable belt conveyors, through to high speed sorters and transport conveyor, catering for parcels of all shapes & sizes & throughput rates. UNI-XU® conveyors can be seen throughout the UK & European parcel distribution sector.
A leading UK parcel distributor has received in excess of thirty complete systems utilising Conveyor Units standard line shaft modules for it's depots throughout the UK.  Working closely with a Conveyor Units integrator they have implemented a carousel system using standard modules where operatives pick circulating parcels from and load in to their relevant destination cage prior to despatch.