Our Factory Conveyor Units and components are used by the most successful manufacturing companies to achieve 'Just-in-Time' & 'Kanban' methods as part of the strive for 'lean manufacturing' processes and ever-more cost-efficient factory operations.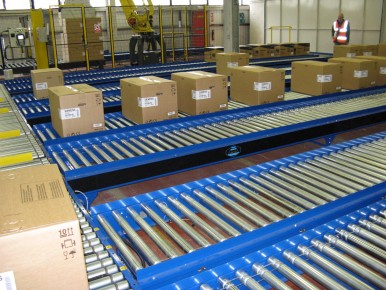 The emphasis on efficient component & raw materials handling during the production process requires materials handling solutions that help to manage the supply chain from materials flowing in as well as a finished product out.
Factory Conveyor Hardware readily available
Conveyors Units have a wide range of factory conveyor hardware which when integrated with the necessary automation provide this sector with efficient materials handling solutions.
One of the leanest manufacturing production lines in the UK has to be at a leading international manufacturer of microwave ovens. Here, various standard Conveyor Units' modules are integrated to enable its finished ovens to be transported to despatch via a lineshaft accumulating system.  They are then transferred into a ten-lane buffer zoned system using 24 volt zero pressure accumulation conveyors.
When a full pallet or twelve microwaves are accumulated they are released in to a main despatch line via a chain transfer system which feeds a robotic palletising unit.  The ovens are automatically positioned on the conveyor, picked and placed on the pallet conveyor which is then fed directly in to a shrink-wrap unit prior to exiting in to the despatch area.