At Our Conveyor Units Ltd site in Stourport, we have made a significant investment in our unique demonstration and product experience centre to show the effectiveness and versatility of the modular system design.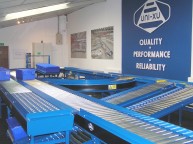 Visitors can view a fully operational 60 metres of carton conveyor which perfectly demonstrates the functionalities of our product range and features the new belt under roller solutions and different modes of accumulation including Zero Line Pressure and sortation solutions.
Our new Aluminium Range is on display too, a fully operational carousel – combining technology and ergonomic design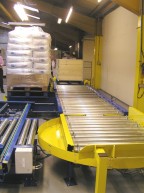 aesthetics. The metal's natural coating of aluminium oxide provides a highly effective barrier to the ravages of air, temperature, moisture and chemical attack, making it a useful construction material, suitable for conveyor systems in many applications, for example, the food/drink and pharmaceutical industries, in addition to environments where conveyor systems are on public display, such as baggage handling systems at airports.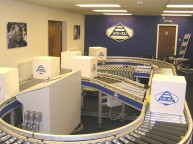 Customers can also see our working pallet system – another modular system comprising heavy duty chain conveyor, roller conveyor, chain transfer and turntable modules.
Both our clients, and indeed your clients, are welcome to visit or use these facilities for presentation or training purposes. Simply chat to a member of our Sales Team to arrange your visit.