Conveyor Units Celebrates 50 Years Of Engineering Excellence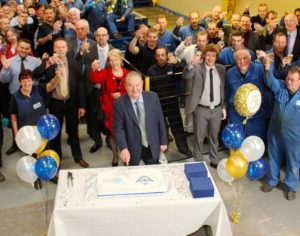 At a time when the news is full of stories of Britain's depressed manufacturing sector, it is a welcome change to report a resounding success story…
2013 sees Stourport based Conveyor Units celebrate five decades of a commitment to quality, performance and reliability in conveyor manufacture. Managing Director, Edward Toye, recently invited the 100+ workforce to a celebratory toast to mark the milestone.
From humble beginnings in Barnett Lane, Kingswinford, in 1963, to becoming an internationally recognised brand and the UK's largest conveyor and roller manufacturer, Conveyor Units' growth, is nothing short of staggering. Today the organisation produces in excess of half a million rollers and 20km of conveyors every year. It also achieved a record turnover of a little under £10 million, with over 1/3 of its sales exported.
Of the four original shareholders, Managing Director, Edward Toye remains. He had already formed Bridge Bearings in Lye, Stourbridge, in 1958 – a company successful in its own right supplying bearings to the materials handling industry.
Much is planned for Conveyor Units' 50th anniversary season – the company is now preparing for the UK's leading trade show for the logistics, materials handling and storage industries – the International Materials Handling Exhibition (IMHX) at the NEC 19th – 22nd March. It has also recently launched its new website and opened up a brand new customer showroom and demonstration area and is already showing an extremely healthy order book for 2013.
Whatever today's challenges may be, maintaining its long term competitiveness and strong foothold in the market remains Conveyor Units' priority and the organisation has an unrelenting focus on development and innovation in both its product range and manufacturing methods. It stands poised for a buoyantly optimistic 50th anniversary season and is proof that manufacturing is very much alive and kicking in Worcestershire!