Overview
'C' section framework, 175.5mm x 40mm having return folds for to retention of the facia.
Incorporates 50mm diameter rollers.
Rollers fitted at 75mm, 100mm and 150mm pitch.
Drive capacity 4.5Kg per roller.
Supplied in 3 metre fully assembled lengths as standard. Other lengths available on request.
Standard widths available: 412, 462, 512, 612, 762, and 912mm. Others available on request.
Full product testing available in our showroom.
Video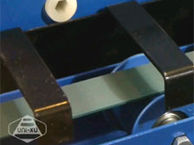 Technical Information
Air Consumption (Accumulating conveyor only): 0.03 litres of free air per actuating zone (nominally 1 zone per metre).
Drive Power / Conveyor Length:
Conveyor length and motor power can be calculated using the following formula:
Load (kg/m) x Conveyor Length (m) x Speed (m/min) / 32000  = Drive Power (kW)
Please note however:
Max Conveyor Length = 30m
Max Drive Power = 1.1 kW
Max Load per roller is 4.5 kg.
Total Load on conveyor = 600 kg max.