New Conveyor Ranges Launched at IMHX 2016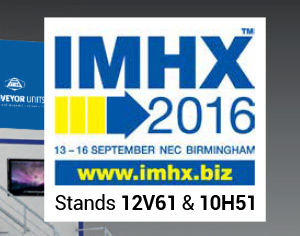 Conveyor Units is proud to be launching four new product ranges at IMHX 2016.
The new product ranges include the new C Channel Conveyor, featuring a new streamlined design, a Rigid & durable frame with easy retention and concealment of cables, along with a quicker installation time. The Poly V Motorised Conveyor can run up to 90 metres per minute, features plug and play connectivity as well as fewer drive rollers and a greater torque transmission.
The Post & Parcel Belt Conveyor benefits from a heavy duty build with re-inforced steel skid decks, 80 Kg/m and drives up to 3kW. Finally, the Post & Parcel Switch Sorter, which also benefits from a heavy duty build, can handle 4000 units per hour with 6 independent drive zones, up to 80 Kg/m as well as an effective speed control.
You can download our IMHX E-Shot by clicking the image below to learn more about these new products.