A low maintenance conveyor, due to minimum moving parts.
Offers extreme versatility in the transportation of various totes / cartons, whilst providing ultra-efficient accumulation.
'C' section framework, 175.5mm x 40mm having return folds for to retention of the facia.
'Z' section framework, 178mm x 32mm x 2.5mm fully jig welded 'Z' section framework.
Available in: Powder coated as standard and stainless steel.
Key Features
Benefits
Modular design.
Proven product, highly configurable, easy and reduced installation time and low maintenance.
Allows for variety of configurations to be made from standard components.
Low voltage, 24V DC brushless motorised drive rollers.
Low energy consumption providing energy efficient conveying.
Low noise.
Run on demand.
Energy conservation.
Increases component life.
Zero line pressure accumulation.
No contact between loads.
Eliminates product damage from pressured accumulation alternatives.
Plug and play options / photocells.
Pre-mounted and pre-wired electrical components, resulting in reduced electrical installation times and costs.
Complete or partial integration of accumulation modules.
Allows for transportation or accumulation as required.
Conveyor Units 24V DC roller conveyor offers both Transportation and Zero Line Pressure accumulation with integral photocells, without the need for external controls. This type of conveyor with decentralised drives is highly modular, creating the possibility to add / remove zones from conveyor schemes with ease.
Transport zones can be made more cost efficient using less motors with poly V belt transmission as an alternative to traditional round belt drives. The principal benefits being the ability to slave more rollers from each motor drive with minimal losses in speed / torque.
Video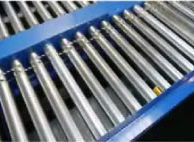 Technical Information
Specification            
For heavier loads and higher speeds, please contact our Sales Office.                                                          
Load
Roller Pitch
Roller Diameter
Track widths
Standard Speeds
5kg per roller
75mm, 100mm & 150mm
50mm
412mm
462mm
512mm
612mm
762mm
912mm
Up to 55
UNI-XU MDR Conveyor
Option 1: 'Plug and Play' cabling for ZLP with minimal control interfacing.

The simplest conveyor of its kind, driven by 24V DC motorised drive rollers with integral DC circuitry. Supplied completely wired with innovative cabling which contains all the interconnections necessary between the photocells, motorised drive rollers and power feeds, eliminating the need to connect and terminate lots of wires on site.
UNI-XU MDR Conveyor
Option 2: Intelligent control for ZLP with PLC interfacing.

This solution offers a greater degree of upper level control interface to a plc / master control with several additional control features:-
Motorised drive roller speed.
Load jam detection signal.
Sensor status output to master control.
Self correcting load spacing.
Error signal to master control in case of overload activation.
 For transportation configurations available without photocells please contact us.